首页 >
RCBC Empowers Calauan's Digital Transformation
稿件来源:菲律賓商報
2023年05月23日 01:25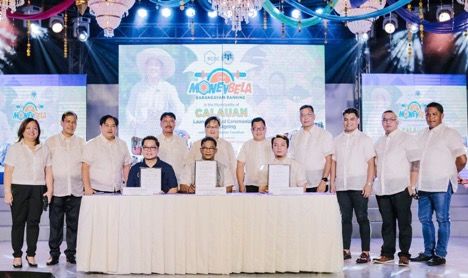 (Seated from L-R): RCBC Executive Vice President and Chief Innovation and Inclusion Officer Lito Villanueva; Mayor Roseller "Osel" Caratihan of Calauan, Laguna; and Atty. Reinier Brofar, Calauan Municipal Administrator. They are joined in full support by the members of the Municipal Council of Calauan (Standing from L-R): Hon. Ave Marie Tonee Sanchez-Alcid, Hon. June Joseph Brion, Hon. Allan Antonio Sanchez II, Hon. Joselito Manalo, Vice Mayor Allan Jun V. Sanchez, Hon. Charles Owen Caratihan, Hon. Kenneth B. Kraft, Hon. Ross Matthew A. Omega, Hon. Atty. Aldrin P. Alimbuyog, and Hon. Joewel M. Gonzales.
  Calauan, a 2nd class municipality in Laguna, takes a big leap to promote greater financial inclusion and massive digital transformation of its local government and residents in its quest to become a "Smart City" by collaborating with the country's multi-awarded and leading challenger bank, the Rizal Commercial Banking Corporation (RCBC).
  In a grand ceremony during the celebration of the municipality's Pinya Festival, RCBC Executive Vice President and Chief Innovation and Inclusion Officer Lito Villanueva and Calauan Mayor Roseller Caratihan, with the presence and support of all the members of the Municipal Council, sealed the partnership between RCBC and Calauan LGU through the signing of a Memorandum of Understanding as the initial step towards developing a framework that will propel Calauan's economic growth and create a thriving digital payment ecosystem for the municipality. Under this engagement, RCBC shall provide a payment gateway and digital disbursement solution for the LGU, and access to banking services in the barangay level through its various digital innovations such as DiskarTech, ATM Go, and NegosyanTech digital mSME, among others.
  In the same event, RCBC launched its Moneybela Barangayan Banking to kick-off initiatives to go down to the communities of Calauan and directly engage with the people as part of its financial inclusion advocacy. The RCBC Moneybela aims to onboard the unbanked and underserved individuals in Calauan to the formal financial system by spreading digital financial literacy and assisting in the opening of Basic Deposit Accounts through RCBC DiskarTech. RCBC strongly supports the Bangko Sentral ng Pilipinas (BSP)'s National Financial Inclusion Strategy and Digital Payments Transformation Roadmap which targets to onboard 70% of the adult Filipino population into the formal banking system and digitize 50% of all retail payments by the end of 2023.
  In his message, Villanueva said, "This day marks a historic chapter, both for the Municipality of Calauan and RCBC. It signifies the beginning of a meaningful public-private partnership for the people of Calauan. We are very excited for this, and we fully support your vision for Calauan to be a Smart City."
  Villanueva also added, "Through our technology, it will be easier for Calaueños to pay taxes and other fees to the local government, the delivery of financial assistance to those in need will be expedited, and essential financial services will be brought closer to every Calaueño."
  Speaking to the attendees from various barangay in Calauan, Mayor Osel Caratihan commended RCBC and underscored the significant benefits that the partnership brings to the residents of Calauan. He highlighted the positive impact of the collaboration, stating that it will facilitate the accessibility of assistance to the local community. By simply registering and visiting the barangay, individuals can receive the support they need. Mayor Caratihan proudly mentioned that Calauan is at the forefront among LGUs in Laguna, being the first to establish such a program.
  Launched in October 2022, the RCBC MoneyBela Barangayan Banking is a flagship program of RCBC to bring banking services closer to remote and rural communities. Last year, RCBC piloted this initiative during the Kadayawan Festival in Davao City and Masskara Festival in Bacolod City, and early this year, in the Dinagyang Festival of Iloilo City.
  RCBC is one of the country's fastest-growing banks, now ranked as the Philippines' 5th largest privately-owned universal bank in terms of assets from 8th in 2019, and the most awarded for its banking innovations. Among its global and local recognitions include a three-peat award as the Philippines' Best Bank for Digital by Asiamoney, back-to-back wins for Best Financial Inclusion App by The Asian Banker's Financial Technology Innovations Awards, and the YouTube challenger award for its viral and out-of-the-box digital ad campaigns generating combined views of over 17 million. Just recently, RCBC was also hailed as Grand Champion for Digital Payments and Financial Inclusion by the Bankers Institute of the Philippines.